Trips
Swim with Wild Dolphins in the Bahamas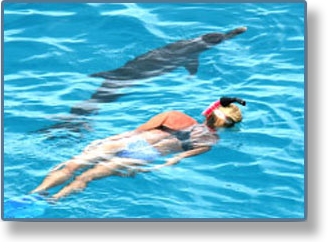 June 9-15, 2019 – FULL – CALL 1-800-326-1618 TO GET ON THE WAITING LIST.
Swim with wild spotted and bottlenose dolphins in the crystal blue waters of Bimini, a small island in the northern Bahamas. These exquisite natural surroundings will allow us to relax, expand and regain our harmony and connection within and with all creatures and nature. Bimini is known for its healing energies, its Atlantean legends and its unique dolphins. The water is magnificent and there are beautiful deserted beaches for walking, swimming and enjoying the sunrise and sunset. It is a small island with few tourists.
Register now on the details page
Click Here for Details
NEW
Costa Rica – Call of the Wild

February 5-16, 2019
Join author and animal communicator Mary J. Getten, and Gayle Lawrence – Journeys of Discovery Travel, on a Magical Adventure of animal connections, rest, rejuvenation, and renewal for your mind, body, and spirit among the healing energy of nature in Costa Rica. Imagine serene walks along the Caribbean sea, sloths hanging from trees, birds and howler monkeys reminding you first thing in the morning that the most important thing you have to do today is enjoy the Magic and simply relax! Mary will facilitate group discussions and meditations to help you move deeper into telepathic connection with your new exotic animal friends.
Register now on the details page
Click Here for Details